Methodology
I was initially very hesitant to write an article claiming to be able to give an overall idea of ​​what students eat at Cambridge, but as I neared the end of my second year, a realization came to me. While there have been many helpful restaurant reviews like those written by other varsity writers, the guide my 18 year old would have wanted because he wasted hours on miscellaneous and faulty card apps, did not exist.
There are, of course, Cambridge Food Guides, but I've found that they tend not to do justice to the diversity within Cambridge that makes its food scene so special, often focusing on chain restaurants. or those with big PR budgets and #advertising campaigns. . Like Pseudo-Denys, I then took the plunge, not to resolve the lack of a comprehensive guide to student nutrition at Cambridge, but to better fail.
A corollary of my task are a number of caveats, the first of which is that "student meals" are not synonymous with cheap meals, a concept which preserves the damaging hegemonies at play in much of the world of Canada. Restoration. Instead, the establishments in this article will offer good value rather than a downright cheap meal. So some restaurants on this list may be more expensive than a regular maintenance loan would allow, but when it does, I've tried to point the reader to tips and tricks that make these experiences more economical. .
This article will also focus on vegetarian / vegan options, as I am aware of the large student body who, even though they are not vegetarian / vegan, make the conscious decision to eat meat more sparingly. in response to the climate emergency. In doing so, I also hope to expand conceptions of the origin and appearance of vegan food, while omnivores can rest assured that vegetarian / vegan dishes act as a useful barometer of the care given by cooks to all. . dishes. So that my list does not die by "a thousand qualifications", this is where I will start.
Central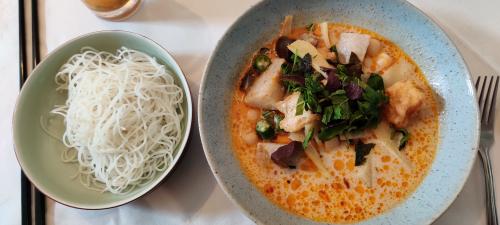 Kings Parade's best-kept secret, and perhaps the only one, is Ittou, a Japanese ramen restaurant, hidden in an alleyway under the shops of Kings Parade, which prides itself on its homemade ingredients. Offering everything from tonkotsu to vegan ramen, the menu care is reflected in the service that makes ordering more conversational than strictly transactional. My Takoyaki and Miso ramen were both exemplary, the former very hot and creamy, the latter with a rich, sweet mirin broth that is soaked in homemade tofu skin and cut by the marinated mooli.
Closer to Magdalene, I would also like to draw attention to Thanh Binh, a Vietnamese restaurant serving a range of Vietnamese dishes and offering its best value with a lunch menu, available between 12pm and 2pm Monday to Saturday. The presentation of each dish is impeccable, with a hibiscus leaf above the freshly squeezed passion fruit juice like a water lily, leaving the seeds of the fruit clustered at the bottom to swim in your straw like tapioca does in the bubble tea. The starters and entrees are all warm and heartwarming, with a lovely Lẩu Chay (vegetable hotpot) for vegans who prefer taro, potato, okra, and lotus seeds over chicken and duck (also on offer) . Desserts in Thanh Binh fall into two categories, puddings and ice cream, with the first category ranging from tapioca, kidney beans and banana while the ice cream ranges from ginger to avocado and then to durian, a flavor that I haven't noticed yet. at Jack's Gelato, but I sure can't rule it out.
About Jack's, whose ice cream quality and ingenuity is well evidenced by its operation until 11 p.m. all year round with seemingly permanent, albeit fast, queues. A plethora of vegan offerings, a daily changing menu at Bene't Street and All Saints Passage locations, and the Google 'Request a Flavor' form, combined with its popularity mean there is nothing more and too much to say concisely about Jack's. Apart from the Yuzu Beetroot sorbets, it should also be noted that the hot chocolates available at Jack's throughout Saint-Michel and Lent are fantastic. Served at what has been decided to be the optimum temperature of 67 degrees, although dissenters from this position may request temperature changes to their liking, their various hot chocolates depend heavily on the quality of Jack's own products, milk oatmeal and chocolate ice cream, as well as top notch ingredients in Pump Street or Estate Dairy.
Honorable mentions: Bridges, Chai Walla, Salathong, Taste of Cambridge, Aroma
Thanks to Yuchao Fan, Lily Zhang, Jia Zheng Ong, Roshni Ranasinghe-de Silva, Kirish Rajaseelan, Zi Ling, Angelo Thavaratnarajah, Amaka Udeagbaja, Joshua Abu, Chang Ji, Nell Ivimey-Parr and Marcus Hicks for their new recommendations and confirmations of my own experiences.
Stay tuned for the next episode of Sam Perry, featuring Cambridge Market.
University is the independent journal of the University of Cambridge, established in its present form in 1947. In order to maintain our editorial independence, our print journal and news website do not receive any funding from the University of Cambridge or its colleges constitutive.
So we depend almost entirely on advertising for fundraising and expect to have a few tough months and years ahead.
Despite this situation, we will be looking for inventive ways to serve our readership with digital content and of course in print!
Therefore, we ask our readers, if they wish, to donate from just £ 1 to help us cover our running costs. Thank you very much, we hope you can help us!