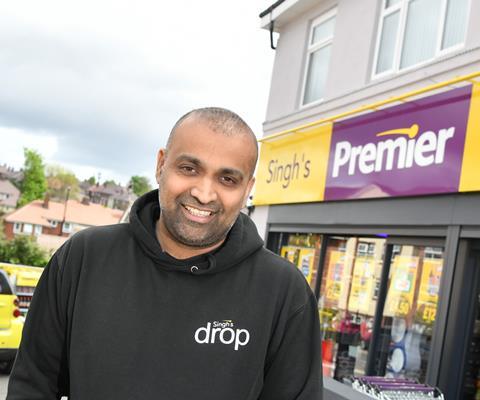 When we last caught up with the Singhs in July 2021, Mandeep and his twin brothers Baljeet and Vrinder had been in a new concept shopping area for four months at their Teynham Road site in Sheffield, following a £400,000 investment £.
Sales had already risen from £35,000 to £56,000 and now, a year later, the figures have continued to rise with an average turnover of £65,000. Store margin has increased to 28%, while in-store basket spend is £9.85.
So, what elements worked well and what changed? Mandeep and Booker Sales Manager Martyn Parkinson tell us about the latest developments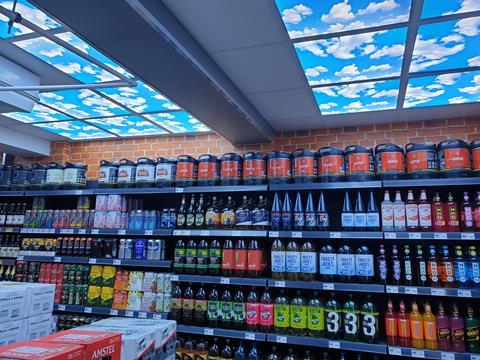 beer cellar
At the back of the store, neon lights indicate the crown jewel – the beer cellar. A day and a half after the store opened after the redevelopment, Mandeep made the decision to call back the builders and double the size of the new beer cellar to 200 square feet because the staff simply couldn't keep up with the request. This brought the total cost of the beer cellar to £30,000, but Mandeep hasn't looked back.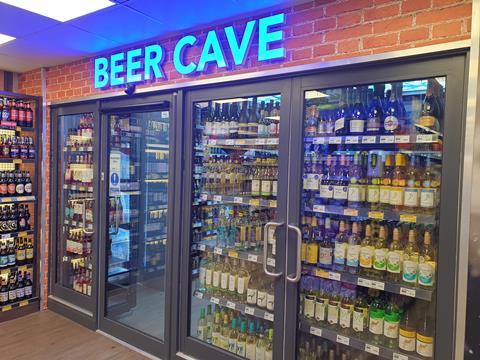 Automatic doors ensure the area stays cool and LED ceiling panels displaying images of the sky create a feeling of light and space. The area is home to a huge range of wines, RTDs, ciders and beers, with plenty of room for larger packaging formats, including a host of popular multipacks and PD (perfect draft) kegs. "We sell six pallets a week," explains Mandeep. "If you look at the price – £30-40 and you make 70%, that's 70% of a big number."
The store was already strong on liquor sales before the redevelopment, so the idea was to improve the offering and develop a real point of difference from competitors, says Parkinson. "We know that multiples and discounters will never chill beer, wine and spirits because they can't afford it because the margins are too tight," he says. "What we have here is if you're having a party tonight or tomorrow, where are you going to buy your booze?" The beer cellar.
It negates critics' concerns about energy costs. "Cooling costs about 30% less than refrigeration, so everyone thinks it's so expensive, but in terms of efficiency, it's more efficient. The big expense is the front – the [automatic doors] are heavy equipment, but running costs are cheaper than a normal chiller.
Refreshment area
With some retailers questioning the reliability and seasonality of drinks dispensers, the Singhs' decision to dedicate a large area to them at the entrance to the store was undoubtedly a bit of a gamble, with Mandeep and Martyn admitting they wouldn't be willing to spend £4.50 on an ice cold drink. The Refresh area is home to a selection of eight beverage dispensers, including Tango Ice Blast, Fanta Frozen, Jolly Rancher slush, Hersheys freeze, F'real, and hot and cold coffee offerings.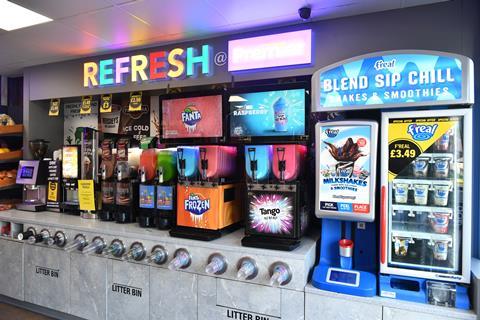 Although they take up a lot of space, Mandeep says all machines can justify their space. "When the sun is up it can be £800-1000 a day, but if you're making £4-500 a day and you're looking at your margins – 60% – where else are you going to do that?" he says.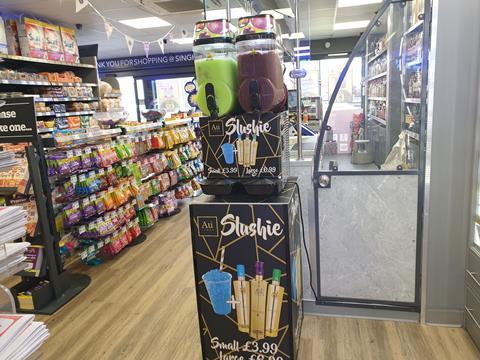 He also introduced an AU-branded slush machine located further inside the store near the checkout. A small cup costs £3.99, while a large one will cost customers £6.99.
Loyalty program
The store's coffee loyalty scheme, which offers a standard £1.50 coffee for £1 if you have a key fob, has amassed 600 customers. "Essentially it's like buy two get one free – we explain to the customer that every time you bring it you save 49p," says Mandeep. "When a customer comes for a coffee, the staff is trained to ask him if he has a loyalty card [and if not then offer them one]. We are gaining customers every day. The goal is to hang it on their bunch of keys so that every time they come in, they have it with them. It's easier for the customer. »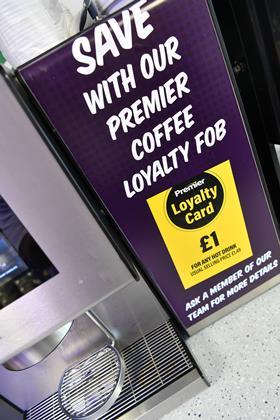 Even at a discounted price, it still makes a decent profit. "At £1 you earn 68p. The net cost is 32 pence, so you double your profit at £1," says Mandeep.
But the key to the loyalty program is that it encourages customers to come back. "We saw that customers who were just passing through were going to pay £1.49 for a coffee, but because we gave them the loyalty offer, we see them every morning, faces we wouldn't have seen before. Whether they come for a coffee or if there are additions, that's a bonus for us.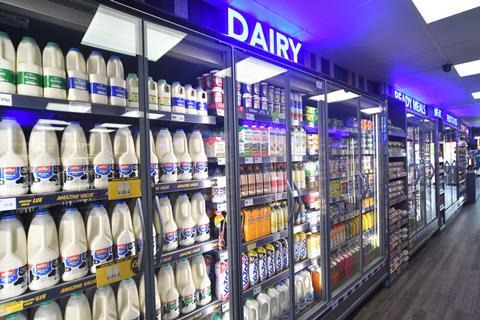 Ice
The redevelopment has seen Mandeep nearly triple its refrigerated space to 10m and the range has continued to expand in recent months. Fresh meat is now selling very well, with the store stocking whole chickens, rump steaks and gammon joints and over the past three months the store has introduced chilled fish.
"One of the biggest challenges we had was trying to convince Mandeep that we could fill that refrigeration," says Parkinson. "What we have in Premier is about 305 long life refrigerated lines with a minimum of 22 days.
"Over the past 12 months, we have added another 200 lines through BRP [the delivered model], so the majority of this is all new. Weekly sales of chilled goods have increased from £800 to almost £6,000 per week. This is where we see the most growth. This is what attracts customers.
"With the cash & carry range, because it comes from our distribution center, we really struggled to put the short life of a cash & carry, so with the BRP you can have all the meat chilled because you have next day delivery."
Mandeep admits it took convincing. "We weren't sure about the BRP," he says. "We didn't know if our customers would buy into this, but it's amazing. Cool and fresh wasn't our strength, but it is now.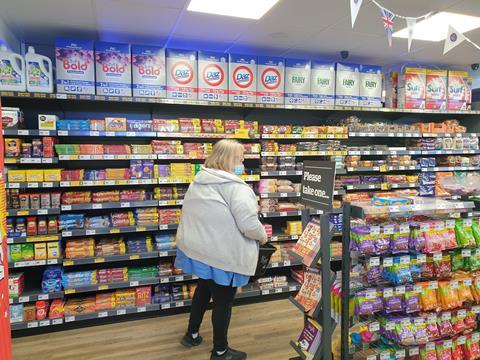 Assess
The store is adapting its balance of pack formats in the face of the cost of living crisis. "Over the past six months, we've seen people turn to bulk packaging for value," says Parkinson.
Many of the store's top shelves have a 'Bigger packs, better value' message with deals on bulk packs, such as £7.99 for a 4-litre bottle of Lenor.
In key areas, the store is making room for more multipacks. "So what you'll see now is the space for multipacks is going to double and we're going to start shrinking our singles," Parkinson says. "It not only helps the basket to spend, but also the workforce. If you look at all the singles, the filling is very intensive, so we have to try to simplify it for the retailer. »
The frozen area, which was extended to 10m during the refit, is one such area. Parkinson says: "We have introduced 16 more multipack ice cream ranges because we have seen customers switch from singles which are usually expensive to multipacks for the same reason they do with soft drinks."
Confectionery and snacking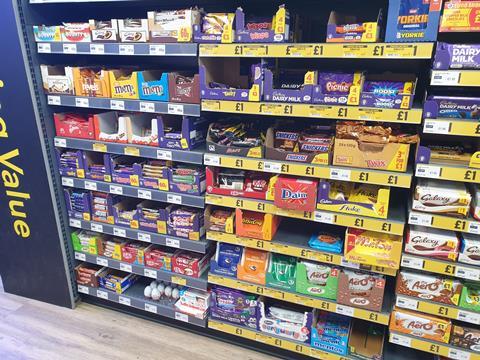 In the snack aisle, the focus is on bigger wrappers in crisps, and confectionery is expected to follow shortly. "We've walked away from anything under a pound [in crisps] as we try to increase basket spending," says Parkinson. "But we have also seen the change in confectionery. Multipacks at four bars for a pound, versus singles for 85p, so in the next six weeks we're going to have to revisit this space.
The performance of the US confectionery and snacks range was "incredible". As a result, the store doubled the size of its display. "We started with four shelves, went to one meter and now we're two meters," says Parkinson.
Vaping
Last year, vape sales topped £2,000 thanks to three dedicated bays. They have since climbed to £5,000 a week and make a healthy margin of 40-45%. More than 50 lines come from Booker, the rest come from three or four suppliers. The display allows customers to browse the store, while the parking facility allows people to pass easily. Mandeep notes how the category has evolved over the past 12 months. "A year ago liquids were two bays, and now people have changed. There's been a big movement because it's all about disposables. This side [liquids] starts to fade and we're going to add a whole other array of disposables. The bars are growing and I think they will be around for a while. But there's more range in the bars, so there will be two whole bays of bars and we'll still have a liquids option at the bottom as well.
Clearly flagging promotions in this category is essential, he adds. "It's about making the customer understand that [promotional products are] £2.50 or five for a ten; or £5.99, two for ten. When you have them [vapes] sitting behind the counter, you can't do those kinds of promotions – that's how you run your sales.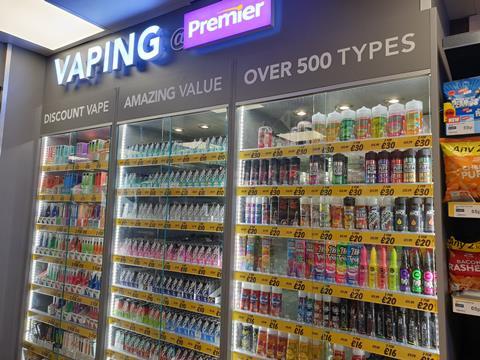 Home delivery
The store's fast delivery business is thriving, and the Singhs never miss an opportunity to promote the store's point-of-sale service and staff uniforms. The brothers entice consumers with exclusive offers for delivery customers. "We do 13p or 26p or whatever," says Mandeep. "It's just to show the customer that we promote more heavily than anywhere else and that our promotions aren't boring, they're different and exciting – chocolates, fresh strawberries at cost, but they can't buy any only one and they have to build an order in place.
This tactic clearly works. The service launched in 2020 and had amassed average weekly sales of £15,000 in 2021, rising to £20,000 in 2022.
The average basket spend of a delivery customer is currently £24, more than double the basket spend in store.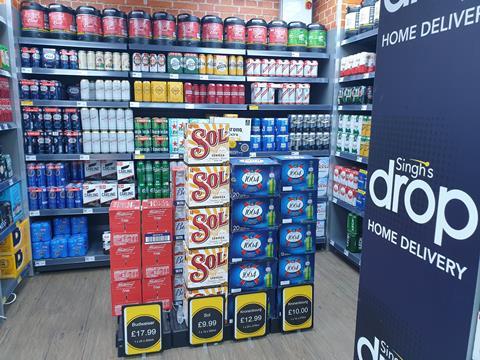 The goal now is to increase sales by another £5,000 to reach a weekly turnover of £70,000. "I said I would get Mandeep at £10,000 a day," says Parkinson. "The important thing for retailers is that with rising costs, we have to get the margin. It would be really easy to get the sales. We've gone from 22% to 28% and I said we'll bring it up to 30%, so we still have a bit of work to do.
The extra £5,000 is expected to come from growth in delivery sales and Mandeep has started testing a 24-hour delivery service.
Further details of Singh's home delivery service can be found here.
Mandeep has no regrets about the £400,000 investment in the store, which he says paid for itself in 12 months. "If you ask us if there's anything we regret or could improve, there's really nothing," he says. "A lot of retailers are still hesitant to invest and embrace novelty, but it's a no-brainer," he says. "Always think outside the box – what's up, what are we going to do? Retail is exciting, you can make a lot of money, which we used to do, but it's on a different level now.